Shopping Cart
Your Cart is Empty
There was an error with PayPal
Click here to try again
Thank you for your business!
You should be receiving an order confirmation from Paypal shortly.
Exit Shopping Cart
| | |
| --- | --- |
| Posted by gooddogdc on October 12, 2013 at 12:50 AM | |
After a very wet week, my dogs were starting to get a little stir crazy.  Iry hates being out in the rain, but Max seemed desperate to go.  Despite the downpour, I put on my rainboots and raincoat and headed to the park! Surprisingly, I ended up loving it! There were no other dogs or people there, so we had full use of a giant field. It was an amazing training session for long distance recalls since I could let Max roam as he wanted with no fear of running into anyone. The other fun benefit is that the rain kept Max nice and cool! Without the issue of overheating, we were able to work for much longer than a normal recall/fetch session. So, for those of you brave enough to face the sheets of rain pouring out of the sky, you might be rewarded by a blissful day at a park that belongs just to you and your dogs!
For those of you less willing to leave the comforts of your home for long (human or dog!), I have a few other ideas that have been keeping us busy!
Hand-feed your dogs dinner as training "treats" to refresh any obedience or tricks.
Teach your dog a new behavior! This is Iry's preferred rainy day outlet, she is working on crawl right now.
Play hide and seek. Put your dog in a sit stay, hide (Some place obvious at first if you've never done this with your dog. For new dogs, I'll often just go in the other room and flatten my body up against a wall.) and call your dog to come and find you. Remain silent while he is searching. Only make a small "hint" noise if he's seems really lost or confused. When your dog finds you, act like he just found you under an avalanche and saved your life! Heap on the praise and treats and make your dog feel really special! This game never gets old for my dogs and they will play it for hours if I'm willing!
This is a great day for an activity toy or food puzzle. A fun game is to take an old muffin tin. Hide treats in the muffin holes. Cover each space with a tennis ball or other similar sized object. Give the new "toy" to your dog and watch his brain work it out! If he won't play with it, you may need to increase the value of the treats (hot dogs work well for this) or help him out by showing him how to do the first few.
Call up your friends and have a playdate! I'll be doing that this evening, and I'm glad! Max really needs the extra attention!
Happy rainy day! I hope you have fun with your pups today!
(Below is our backyard.  It's a lake!!!)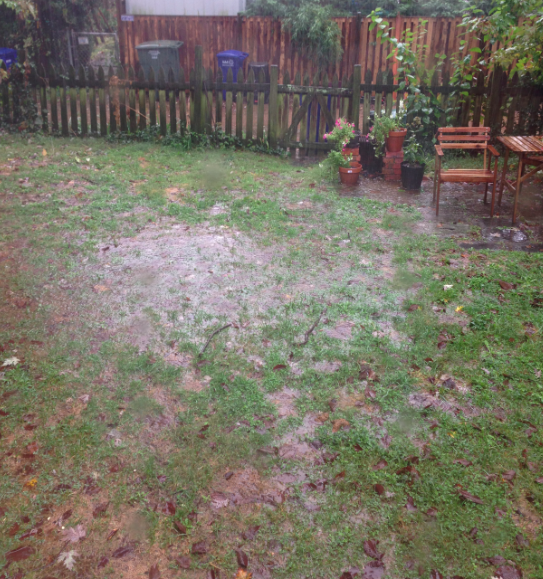 Categories: None

0

/